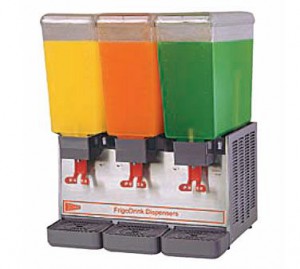 As much as I loathe saying it, summer is winding down. The weather in the Midwest is already chilling. Soon we'll see the shutters on our little lakeside snack shops coming down in preparation for the coming fall and winter months.
As summer fades into fall, it's the perfect time to take a look at your refrigerated beverage dispenser. Whether you're packing up and closing shop for the season, weaning your patrons from frosty mixed drinks, or breaking out the concession equipment for the upcoming school year, the demand on your beverage dispensers has decreased…for a moment.  Now is the time to take a look at your current dispenser's state and look for the indications listed below that it's time to go shopping.
Beverage dispensers typically offer a service life of between seven and 10 years on average. The following are signs that indicate your beverage dispenser may need replacing:
Water Leaks: If water leaks through the bin seal or manufactured chassis, this may indicate a leak in the line or rupture in the corner seal. This could be an indication that the unit has reached the end of its service life.
Aging Unit: Many beverage dispenser components, such as valves, can be replaced. It also is possible to upgrade and refurbish these units. But if the equipment had been in operation for 10 years or more in a high-volume application, it's more than likely time to replace the unit as a whole.
Appearance: Put yourself in the customer's shoes. If they notice an older, self-serve unit at the front of the house, how will that affect your sales? In this case, it's important to keep up appearances.
Changing Menu: A common issue when purchasing beverage dispensers is buying too small or too large a dispenser for the necessary volume. When the beverage menu changes or expands, foodservice operators should re-evaluate whether the dispenser can meet the restaurant's needs. If the operation requires more capacity consider whether a larger unit or additional dispenser would be most appropriate.
Once you've checked these items off your list, keep your beverage dispenser in tip-top shape by regularly following cleaning procedures. This will help ensure the quality and taste of beverages isn't compromised.
Beverage dispensers can be merchandising tools especially when used in the front of house for self-service applications. For this reason, it's important that these units are properly cleaned and maintained. Foodservice operators can perform daily, weekly, and monthly tasks that will help keep your beverage dispensers operating at an optimal level, while ensuring a long service life. Keep in mind that unit needs may vary, and manufacturer's recommendations should be followed.
On a daily basis, staff should remove the nozzles and diffusers and soak them in warm, soapy water. At the end of the day wipe down exterior surfaces with soap and water to remove any build-up and/or spills. Refrain from using cleaners with high chlorine content on stainless steel, as they may cause rust. Regularly flush and clean water lines. And finally, each month, clean and wash ice bins.