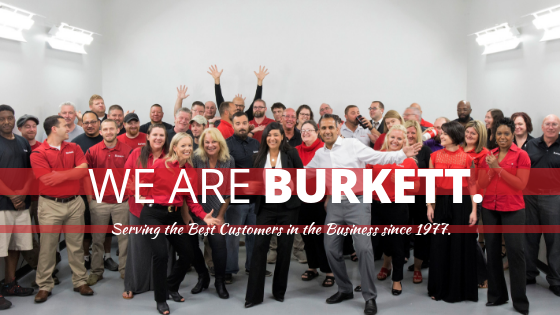 Foodservice Equipment Reports magazine has recognized Burkett Restaurant Equipment & Supplies as one of seven national recipients of the prestigious Management Excellence Award in its 2019 Industry Excellence Awards.
Management Excellence Awards are among the most prestigious in the foodservice industry. The award recognizes excellence in the management of unit and facilities development, design, Equipment & Supplies purchasing and maintenance functions in commercial and noncommercial foodservice operations; in the delivery and performance of E&S functions and services by E&S dealers and distributors; and in the delivery of services by foodservice consulting firms and service agencies.
Candidates are nominated and selected by advisory boards made up primarily of leading equipment and supplies manufacturers. Burkett won the Small Dealer category, competing among those companies with less than $40 million in annual revenue.
"A wise man once said no pain no gain," Burkett President Jameel Burkett said. "These last few years have not always been easy as we built our infrastructure to grow Burkett, but our future is bright, and this industrywide recognition further validates that we are doing the right things."
This is the first time the company has ever won the award. Recipients will be honored at FER's Industry Awards Gala on May 19, 2019 during the National Restaurant Association Show in Chicago.
"I am truly honored that Foodservice Equipment Reports magazine has chosen Burkett Restaurant Equipment & Supplies as one of its 2019 Management Excellence Award recipients." Burkett said. "This is an example of what can happen when you have a great team that shares the same vision and works hard every single day. I am also thankful for all the great customer friends and vendor partners that we work with. We are truly blessed and humbled in receiving this award. Congratulations to our entire Burkett Team!"
Read the full FER article and find out about all 18 Industry Excellence Awards winners by clicking on this link.