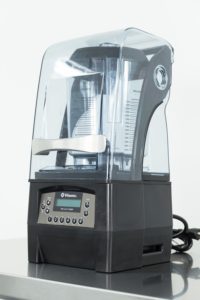 Very often, we are asked by customers, "What kind of Blender does Starbucks Use? That's the blender we want!"
For years, Starbucks used a Blendtec Blender, but recently the company switched over to Vitamix, which created a blender specifically for Starbucks' needs. Today, Starbucks uses  the 48oz Vitamix Blending Station Advance, better known as "The Quiet One."
The quietest machine on the market, it is the ultimate blender with unparalleled sound reduction, as well as exceptional beverage blending. These features were also able to improve the speed of service, meaning users rarely have to reblend a drink.
The Quiet One's smart product design means that because of its advanced vibration dampening technology, this blender it is up to 4 times quieter than the competition (18 decibels quieter) which creates a more enjoyable atmosphere for customers. The magnetically designed floating sound enclosure is dramatically easier to clean and disassemble since there are no screws involved.
Like most Vitamix Blender's, The Quiet One has a variable speed control and automatic shut-off, providing the user flexibility in creating endless recipes. Designed specifically with coffeehouses and high-end bars in mind,  it features:
6 programmable buttons
34 optimized programs
Powerful 3-horsepower output motor
Air management design allows for reduced noise, improved reliability, and reduced down time.
The blending container is also uniquely designed for faster, smoother pouring and a long lasting blade life. What does this mean to you? Time and cost savings, along with improved customer experience. The container's double-sealed bearing also provides improved wash-ability, extending life of the blade assembly. Also, a superior keypad sealing and one piece circuit board provide improved reliability.